Ask the experts
Here is a selection of Q&As from Your London Wedding magazine. If you would like your question answered by our experts, please email it to editor@yourlondon.wedding.
To view more Q&A's on a different topic, please select one from the list below.
Hot topic: Time is tight
From a venue hunt in a hurry to blooms in the blink of an eye, our experts are on hand to answer your last-minute big-day questions
---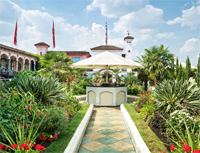 The fast track
Q. My other half proposed at Christmas and we want to marry as soon as possible but we don't even know where to start. Help!
A. Amber de Savary says: It's no secret that planning a wedding can be a daunting task – even more so if you have a limited amount of time – but there are a few tricks that can help get things moving, fast.

- Book your registrar and venue
Booking your venue and registrar as soon as possible is a good place to start. Some organised brides book these years in advance so, if you can barely wait to tie the knot, you may need to be flexible on the date. Mid-week dates are most likely to be available at short notice; you might even be able to strike a deal on the price.

- Decide on a theme
Planning a wedding takes a lot of decision making, but hours of deliberation can be made easier if you're working to a theme.

- Make your venue work for you
Most brides spend hours trawling the internet looking for the perfect photographer or florist, but most venues will be able to advise on trusted suppliers, so make the most of their expertise.

- Be clever with your time
Use every opportunity to multi-task, for example, your menu tasting is the perfect time to discuss your ideas with your wedding executive and finesse the details for the day.
---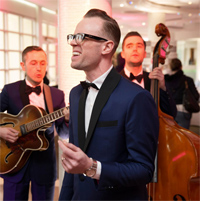 Music in a moment
Q. We're getting married in a matter of weeks and have yet to book any entertainment. Is there a trick to securing a fab act at the last minute, or should we start charging our iPod now?
A. Mark Stormont says: If you're against the wedding bells as it were, find an event entertainment agency you trust and spend some time on the phone with them. Go into detail so that they really understand you and what you want. A good agency will have access to hundreds of options that they can contact in a matter of minutes. Try to be as specific about your tastes, timings and budget as possible. The choice out there is overwhelming; if undertaking the search yourself you're more likely to 'settle' for some entertainment due to Google fatigue than to really find something that is right for you, especially if you're planning last minute.
---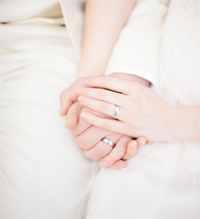 In a hurry
Q. My boyfriend proposed to me at Winter Wonderland and, as I've been waiting for this moment for a decade, I'm in no mood to dawdle. What's the shortest possible time frame you'd advise for wedding planning and why?
A. Dominique Douglas says: Congratulations! There are a lot of theories on how long it takes to plan a wedding and some people will insist that you need at least 12 months. The shortest that I've ever done for a couple is four months, from start to finish.

The main thing you'll need to consider and get moving on immediately is your venue. Have you got a location in mind or are you flexible? Would you consider having a weekday wedding for the right place? Some venues have last-minute cancellations, so you may get lucky. You could even get a bargain. I'd suggest you get on the internet and phone straight away.

Once the venue is in the bag, the next two crucial suppliers are your photographer and dress. The best photographers get booked up well in advance and some dress designers need at least four months to make a gown.

In my experience, planning a wedding with a shorter time frame can be easier for some brides, as there just isn't time to faff about; you need to make decisions quickly and move on to the next task. If you're the decisive type, then it shouldn't be too difficult. However, don't stress yourself out and do whatever works for your personality.
---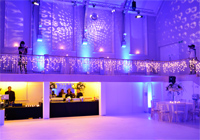 Just in time
Q. We got engaged over Christmas and we'd love to be wed before the summer is out, but I'm worried such a short-lead time will mean we have to compromise on our perfect venue. Is my timeline unrealistic and are there any tricks of the trade for booking a date at such short notice?
A. Roxy Erickson says: London is awash with great suppliers, so find the perfect space and you're half-way there. Venues can be a one-stop shop, with experts pointing you in the right direction for anything from florists to photographers. These professionals organise hundreds of weddings; they know who's going to pull through for you successfully. This makes quick decisions painless.

The most stress-free option is to go with a venue with a wedding package, taking care of necessities. However, if you don't want a package, you don't need to compromise because of a quick turnaround. A venue should still be able to accommodate the special touches that are unique to you. We've hosted everything from live reindeer to acrobats and interactive projections.

Above all, remember that your wedding is about marrying your soulmate, focusing on that will keep stress at bay.
---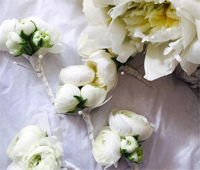 Power through the flowers
Q. We've taken advantage of a last-minute booking at our dream venue but now we're faced with organising everything else in a matter of weeks. Can you tell me a little about florist lead times and how we could choose arrangements that suit a short time frame without compromising on style?
A. Carly Rogers says: You'd be surprised how quickly you can organise flowers for a wedding. I think sometimes it can be better to do things a little last minute, as decisions need to be made on instinct and there's an exciting sense of momentum.

I've been given a week's notice for a wedding and that's been no problem at all; most flowers can be ordered just a few days in advance in an emergency.

I'd always advise on a face-to-face meeting with your florist, however last minute the wedding is. A quick chat in person can save time and lots of emails. I find that as soon as I've met a bride to be, I instinctively know what she'll like and what style to suggest. Another tip for a short lead time is to use seasonal flowers when possible, be open to ideas and always ask your florist what they'd suggest for the time of year.
---
Contact our experts...

Amber de Savary
Event manager
Carly Rogers
Florist owner

Dominique Douglas
Venue styling and wedding planning

Mark Stormont
Entertainment curator

Roxy Erickson
General manager
---