Ask the experts
Here is a selection of Q&As from Your London Wedding magazine. If you would like your question answered by our experts, please email it to editor@yourlondon.wedding.
To view more Q&A's on a different topic, please select one from the list below.
Hot topic: Lets get this party started
From fabulous food to filling the dancefloor, our experts are on hand to advise on an evening do to remember
---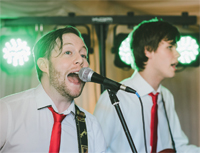 Dancing queen
Q. We're quite restricted on numbers during the day so I really want our larger evening do to kick off with a bang – with everyone on the dancefloor early doors. What are the advantages and disadvantages of a live band versus a DJ?
A. Nigel Thomas says: It's fair to say there are a number of advantages and disadvantages in having a live band as opposed to just a DJ. The main disadvantages are a good band will cost more, take up more space and you do, of course, need a venue that allows live music and/or a band who can play with a sound limiter if there's one. However, in this era of tinny mp3s, there's something undeniably special about a group of talented musicians playing your favourite songs with energy and enthusiasm – you can certainly see the difference on the dancefloor. Many times I've been told at the end of the evening that we made the day extra special.

There is a third way of course – why not hire a band who both play and DJ to a professional standard?
---
Share and Share alike
Q. I'm planning sharing platters and bowl food for our reception as we love that laid-back, sociable vibe – but we're now wondering how to make our evening food feel different to the main event? Any ideas?
A. Ella Prichard says: Presentation is key here, so don't be afraid to think outside the box. For example, you could serve fish and chips in newspaper cones, steak skewered on to long sticks and presented in milk bottles and soup in shot glasses. For something more substantial, why not set up a few food stations? You could have a beautiful, rustic display of homemade breads, specialty cheeses and cold meats served on thick wooden boards for your guests to help themselves to.
---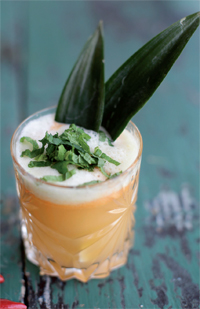 Cheers to that
Q. We want to make more of our drinks reception and were thinking of jazzing up the traditional glass of fizz or perhaps serving a bespoke cocktail instead. Can you advise on killer combinations for drinks and canapés that will get our party started?
A. Christabel Beeson says: A glass of fizz is a classic way to start a party but, to mix it up, I'd recommend a tequila-based cocktail. Tequila is an instant party starter and will get people talking. Combine with lime, chilli, tequila, agave syrup, fresh pineapple juice and mint for a fabulous and refreshing cocktail that can be made in advance.

In terms of canapés, I'd think of presentation as well as taste, as you want to catch peoples' eye. A real winner is beetroot and gin-cured salmon. Just blend beetroot with a splash of gin, salt, pepper and lots of lemon juice, spread the mixture over smoked salmon and let it infuse overnight. In the morning, it should be bright purple and taste delicious! Serve on rye bread with honey and a squeeze of lemon – the perfect sophisticated Scandi snack.
---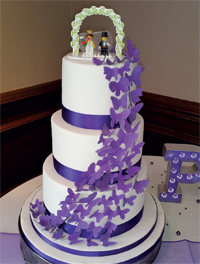 A cake that cuts it
Q. We're planning an intimate do but we'd still like to make a feature of our cake. What would you suggest to make a more modestly sized cake stand out?
A. Shenaz Lake-Thomas says: However small your wedding is, you can still make the cake your centrepiece. Whether it's a small three-tier or a two-tiered cake, choose the colour wisely – it should tie in with your colour scheme but at the same time, pop. Think of texture too – embellishments such as edible lace, ribbon or sugar flowers will all add interest. Add a touch of gold, silver or copper for some extra wow factor.
---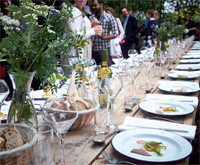 Lush and local
Q. My husband-to-be and I are trying to plan a green wedding. What should we be asking our caterers to ensure that the food is as environmentally friendly as it is delicious?
A. Tom Hunt says: Your mantra when speaking to caterers should be 'seasonal, local, organic'. I believe the one biggest step we can make towards leading a more sustainable lifestyle is to eat seasonally. Seasonal inherently means local – local means the produce doesn't carry an unnecessary carbon footprint from its transportation, it also means that buying that produce supports the local economy and that the quality is often better as it was harvested ripe, not weeks or months before, which is often the case when food is transported greater distances. Seasonal/local food is also often grown in a greater diversity of crops on smaller farms that better supports nature and wildlife.

Seasonality has become a buzzword within catering in recent years but that doesn't mean caterers are necessarily doing what they say they are. Do your own research into what's in season the month of your wedding and request menus using those ingredients to make sure you're getting the best quality and the greenest wedding possible.
---
Contact our experts...

Christabel Beeson
Event Planner

Ella Prichard
Owner

Nigel Thomas
Part of a band and DJ service

Shenaz Lake-Thomas
Cakemaker

Tom Hunt
Eco Chef
---