Why you should buy issue 60 of Your London Wedding magazine...
July/August 2018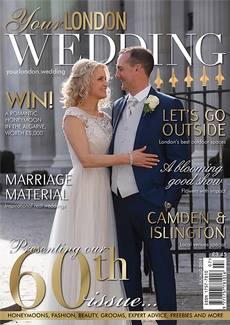 Algarve competition
Win a romantic honeymoon in the Algarve worth £5,000
Singing in the rain
Tips and advice for dealing with the dreaded 'R' word
Amazing space
Big and blousy or small and perfectly formed? Choose your blooms to suit your venue, we say. From gritty industrial to classic Georgian, we asked London's top florists how to dress the city's events spaces
Pets at weddings
There are lots of ways you can include them, from your hen do right through to your honeymoon
Camden and Islington
From historic town halls to quirky pubs, no wonder these north London boroughs are a fave for the city's couples
The bridge
Southwark's central location and local landmarks have captured many a heart
Let's go outside
London may be a metropolis but it's not short of green space as these outdoor beauties prove
Discover Dominica
Claire Ridley discovers the charm that this lesser known island in the Caribbean has to offer for adventure-loving newlyweds
Keep it simple
They may not have aimed for a fairy tale wedding but Anna and Stuart's big day was certainly magical
Weather any storm
Storm Brian couldn't put a dampener on Charlotte and Alex's stunning autumnal wedding
50's chic
Bridesmaids' styles influenced by this ladylike decade
Match made in heaven
Fragrances for him and for her creating the ultimate big-day pair
Freebies and offers
Great giveaways and discounts up for grabs
Festival fever
Get wedfest-ready and wow your guests with a blast of colour and fun accessories
More than words?
Classic calligraphy and wax seals? Today's stationery harks back to a bygone era
Fun in the sun
Melissa Barker discovers what makes the TRS Yucatan Hotel in Mexico such an appealing destination
Summer son
Be inspired by these fashion choices for the ultimate seasonal look
Colour coordinated
These colours are #trending right now and are perfect for brides and their maids
eMagazine
Available to download NOW for only £1.49
Printed Copy
(inc. free eMagazine)
Quantity in Stock: 4
Click here to use our online ordering service
---
Buy a copy
There are 5 different ways to buy Your London Wedding magazine.
Click here to view some sample pages from an eMagazine
To order the latest copy of Your London Wedding magazine or to obtain back issues, click here.
Alternatively call us to order your copy, post-free for just £3.45, on 01376 514000
Read Your London Wedding magazine in electronic format for just £1.49 per copy (Smartphone and Tablet compatible) click here
You can subscribe for just £17.60!
Annual subscription (6 issues)
Save over 15% off the normal cover price
FREE postage and packing
Receive each issue as soon as it is published
To order your subscription, simply call us on 01376 514000 or click here
Alternatively, click here to order an eSubscription for just £7.60
4. Buy a copy from a retail outlet
Your London Wedding magazine is available from newsagents and supermarkets.
However, if you do have problems, or if your newsagents has sold out, then call us!
We'll send your copy to you post-free for just £3.45 inc P&P. Simply call us on 01376 514000
5. Overseas Orders
For non-UK customers, please email admin@county.wedding for full details.
---