Why you should buy issue 62 of Your London Wedding magazine...
November/December 2018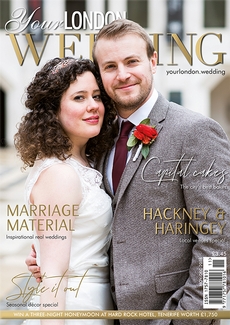 Tenerife competition
Win a three-night honeymoon at Hard Rock Hotel, Tenerife, worth nearly £1,750
Hygge happy
After a ceremony in Hackney, Clare and Stuart cosied up at a City restaurant
Nylon
Ewan and Greg celebrated their transatlantic relationship with an airline theme
The personal touch
Nikola and Dave honoured their families' heritage with their venue choices
Hackney & Haringey
London's top hipster haunts are a treasure trove of unusual venues
Something old, something new
London's financial district is a borough of contrasts from glittering skyscrapers to ancient landmarks
Bite size
London's foodie scene provides rich pickings for wedding receptions
A winter's tale
Warm and cool tones for a magical big-day palette
Style for all seasons
Take inspiration from the season to create an original scheme for your big day – three crack teams of London experts show us how
A life of luxury
Wedding planner to the rich and famous Marc Ahmed chats to County Wedding Magazines
What's your flavour?
It's official – fruit is dead and there's been a flavour explosion on the London cake scene. Your London Wedding investigates (yes, it did involve eating a lot of cake – what can we say? Tough gig)
#trending
These styles dominated on the 2019 catwalks
All that glitters
'tis the season to sparkle in this selection of latest bridal accessories
Mask-erade
Bring the life back to your skin with these fabulous face masks
eMagazine
Available to download NOW for only £1.49
Printed Copy
(inc. free eMagazine)
In Stock
Click here to use our online ordering service
---
Buy a copy
There are 5 different ways to buy Your London Wedding magazine.
Click here to view some sample pages from an eMagazine
To order the latest copy of Your London Wedding magazine or to obtain back issues, click here.
Alternatively call us to order your copy, post-free for just £3.45, on 01376 514000
Read Your London Wedding magazine in electronic format for just £1.49 per copy (Smartphone and Tablet compatible) click here
You can subscribe for just £17.60!
Annual subscription (6 issues)
Save over 15% off the normal cover price
FREE postage and packing
Receive each issue as soon as it is published
To order your subscription, simply call us on 01376 514000 or click here
Alternatively, click here to order an eSubscription for just £7.60
4. Buy a copy from a retail outlet
Your London Wedding magazine is available from newsagents and supermarkets.
However, if you do have problems, or if your newsagents has sold out, then call us!
We'll send your copy to you post-free for just £3.45 inc P&P. Simply call us on 01376 514000
5. Overseas Orders
For non-UK customers, please email admin@county.wedding for full details.
---