Why you should buy issue 61 of Your London Wedding magazine...
September/October 2018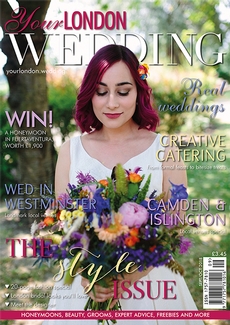 Fuerteventura competition
Win a romantic honeymoon in Fuerteventura worth £1,900
Three is the magic number
Marina and Anthony completed a veritable wedding marathon on their big day with not one, not two but three venues
Wedding march
Helen and Chris celebrated their marriage in a landmark central London venue
Clean and bright
Sophie and James chose a bright colour palette for their laid-back big day
Club together
Westminster's reputation as a wedding wonderland is well deserved – this central London borough boasts a host of elegant venues
Greenwich and Lewisham
Head south-east for some of London's prettiest locales
A river runs through it
From world-famous bridges to cosy taverns, there's plenty to choose from Thames-side
Oh-so social
Keep up-to-date with our CWM online news, chats and competitions
Shake it up
Whether you've planned a formal affair or can't countenance anything but casual, London's top caterers are keeping it creative
London bride
Your wedding outfit is about more than just the dress – London's top stylists, bridal boutiques and designers have teamed up with local make-up artists, hair stylists, accessories brands and even florists to put together six fab looks. You can thank us later.
Movie star magic
This season's bridal dresses have taken Hollywood glamour to the next level
Lip service
Pucker up with these products
Keep calm and marry on
Psychologist Dr Becky Spelman advises on the best way to manage pre-wedding stress
eMagazine
Available to download NOW for only £1.49
Printed Copy
(inc. free eMagazine)
In Stock
Click here to use our online ordering service
---
Buy a copy
There are 5 different ways to buy Your London Wedding magazine.
Click here to view some sample pages from an eMagazine
To order the latest copy of Your London Wedding magazine or to obtain back issues, click here.
Alternatively call us to order your copy, post-free for just £3.45, on 01376 514000
Read Your London Wedding magazine in electronic format for just £1.49 per copy (Smartphone and Tablet compatible) click here
You can subscribe for just £17.60!
Annual subscription (6 issues)
Save over 15% off the normal cover price
FREE postage and packing
Receive each issue as soon as it is published
To order your subscription, simply call us on 01376 514000 or click here
Alternatively, click here to order an eSubscription for just £7.60
Readers will receive a fabulous bundle from Pro Teeth Whitening, worth £30 when they take out a year's printed subscription to Your London Wedding.*

Sign up for a year's subscription and not only will you save money on the cover price, you'll also receive a fabulous bundle from Pro Teeth Whitening, worth £30.

Pro Teeth Whitening provides high-quality, safe and effective teeth whitening products at affordable prices. All products are made from the finest natural ingredients and suitable for vegans and vegetarians.

Check out www.proteethwhitening.co

County Wedding Magazines is delighted to team up with Pro Teeth Whitening to offer readers its premium 14-day teeth Whitening Strips and new activated charcoal whitening toothpaste. The strips are formulated to safely whiten teeth using activated charcoal which helps remove stains and gently whiten teeth. The peroxide-free formula offers professional results in just 30 minutes without causing sensitivity.

When used twice a day, the toothpaste helps polish the surface of your teeth to significantly whiten and brighten your smile. activated charcoal absorbs tannins found in tea, coffee and red wine, all of which stain the teeth. The toothpaste also helps reduce bad breath bacteria, food stains and keep plaque at bay!

All you need to do to claim your gift set is take out a year's subscription!
* Subject to availability
4. Buy a copy from a retail outlet
Your London Wedding magazine is available from newsagents and supermarkets.
However, if you do have problems, or if your newsagents has sold out, then call us!
We'll send your copy to you post-free for just £3.45 inc P&P. Simply call us on 01376 514000
5. Overseas Orders
For non-UK customers, please email admin@county.wedding for full details.
---