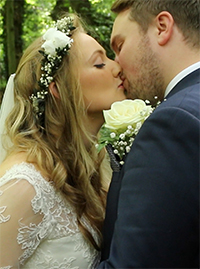 Film buff
Q. I love the idea of a wedding video but our budget is tight. What are the options, assuming we can't afford full-day coverage?
A. Holly Cassidy says: If money is an issue, don't decide against a video altogether. I honestly can't recommend having some form of video documentation for your day enough. They say pictures speak a thousand words; a video captures every expression, every emotion, every tear and every laugh.

Something I've found works beautifully in the past, if a couple can't afford my services for the whole day, is the following package: I arrive on the day at the same time as guests arrive at the church, then film the entire ceremony, followed by footage of the couples' photo shoot (if they're having one). This would bring to an end my filming services however, for the rest of the day (and in the morning while the various parties are getting ready), where possible the couple can film using their own equipment, be that a GoPro, iPhone or a camera, if they have one. I suggest they give one guest the responsibility of tracking where the camera is but allowing it to make its rounds between guests, getting some beautiful, intimate footage and a true sense of the day. 'Shoot it yourself', if you will. Once the day is over, the couple can send me their footage and I'll edit it for them, along with my footage of the ceremony. Depending on the location of the wedding, this option will reduce the price of one of my videos but still provide the couple with timeless footage and memories.