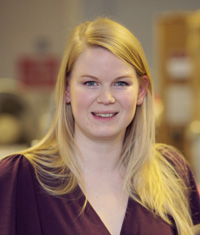 Get to know Georgina Cassels, editor of Your London Wedding, with these top 10 questions.
What do you love most about working on Your London Wedding?
Everything! Weddings are the perfect combination of all the things I love: food, drink, London hotspots, flowers, stationery, wedding décor and fashion – but my favourite part is, without a doubt, hearing from our real brides. From sob-inducing romance to laugh-a-minute mishaps, they never fail to entertain.
Describe the style of a Your London Wedding bride?
London brides are style-savvy – as you'd expect from those who live in one of the world's capitals of fashion. At the moment, we're seeing a lot of two-pieces and jumpsuits – and my, do London brides know how to accessorise, from leather jackets to statement jewellery, they cut a fine figure on the city's streets.
What's your favourite feature to write for Your London Wedding?
Real weddings! I never get tired of this feature – and I am known in the office for tearing up at regular intervals as I read through their stories. I love hearing about how the couples met, and their big-day plans.
If you were to get remarried what type of wedding would you have?
I tied the knot before I became a wedding editor – so I'd probably change a lot. I'd still wear Jenny Packham and Rachel Simpson shoes because my, they were comfortable but as far as the theme goes, the jury's out – I change my mind every issue. I love the clean, contemporary feel of warehouse weddings and, in terms of colour schemes, I adore rose gold and blush.
Who would be your number one wedding guest and why?
My daughter and goddaughters – all were born after our big-day and I'd love them to be there, all in matching dresses as flowergirls.
What are the five words that best describe you?
I should probably write something like bubbly and fun but I fear organised (OK, OCD) bookworm is a more accurate description. I'm sure my husband would add bossy into the mix.
When did you last go to the cinema, and what did you see?
Ha! The cinema – I have a three-year-old! Actually, I did see LaLa Land in one of the rare windows when my daughter was sleeping at night and loved it. Even better, it was Stratford Picturehouse so we could drink wine while we watched. I'm a voracious reader, and whizz through about four books a week. I just finished The Hate U Give, which was excellent.
What three items could you not live without?
iPhone (particularly Amazon, What's App and Instagram), New Balance trainers (I walk everywhere), and my Fjallraven Kanken backpack.
Favourite food?
Cor, that's a toughie – if I had to choose – it would be Vietnamese but I love sushi. Korean, Indian... the list goes on. The variety of cuisines on offer everywhere and anywhere is one of my favourite things about living in London.
Contact me
I'd love to hear all about your plans for your big day, or whether you'd recommend your wedding suppliers. Alternatively, let me know about any budget-saving tips you feel may benefit other readers. Email me at editor@yourlondon.wedding.