Ask the experts
Here is a selection of Q&As from Your London Wedding magazine. If you would like your question answered by our experts, please email it to editor@yourlondon.wedding.
To view more Q&A's on a different topic, please select one from the list below.
Hot topic: It's all in the detail
Our experts advise on the little touches that make a celebration
---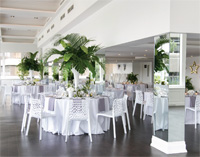 Style me pretty
Q. Now I have all the main elements of our wedding planned, I want to concentrate on giving the blank-canvas venue we've booked the wow factor. What would you suggest to make our guests gasp as they walk in the room?
A. Filipe Borne says: It can be tricky to make an impact with a blank-canvas venue as you have so many options and are not limited by existing décor. With careful planning you can create an experience that is entirely individual for your special day. In my opinion, there are two approaches you can adopt to bring a wow factor to a clean space. First, simplicity – keep your decorations simple, elegant and classy for a minimalist but well-coordinated look. Second, go all out – fill your space with decorations that are big, bright and bold to present your guests with a theme they can't ignore.

For a truly original theme, why not base your décor around the personalities of you and your partner? Clever use of flower style, AV and lighting can create an experience that is personal to you. In a blank-canvas London space, you have the freedom to be as bold or subtle as you desire. With the city as your backdrop, you can fill the rooms with subtle features that bring the space to life; or complement the most theatrical of themes with the skyline in the distance.
---

I'll drink to that
Q. My husband-to-be and I are foodies and we'd love to pair our chosen menu with appropriate wines. We've opted for a tuna tartare starter, spring lamb for the main and a selection of puddings including lemon mousse, miniature pavlovas and a moelleux au chocolat. What would you suggest?
A. Anna Grente says: With a tuna tartare, we recommend a very dry white such as a Chablis or a Loire white. Our match would be with Chablis Domaine de Chardonnay. Its vibrant, lively palate would complement the fish well.

Pinot Noir, Bordeaux and Rioja are such good choices to go with lamb. As spring lamb is more delicate and less fatty than other lambs, we'd recommend a lighter red such as Pinot Noir or merlot or even a rosé.

We've chosen a wine from Bordeaux, St Emilion, which has a bigger concentration of merlot, Château Haut Gros-Caillou. It has enough character and complexity to cut through the lamb but is elegant enough to enjoy a glass on its own before you hit the puddings. An easy delight.

With the selection of puddings, you want a sweet wine that has enough acidity to go with the tartness of the lemon mousse and the sweetness of the chocolate and pavlovas. We are fans of the Tokaji late harvest from top Tokaj Hungarian producer Dorgó vineyard. You're guaranteed to woo your guests with this unusual choice!

And for your champagne toast, we can't recommend enough Thiénot Brut NV. Powerful nose with hints of piped-fruit jam, apples and quince. Rounded and long on the palate, with a succession of apple and pear, fresh-fruit fragrances. Freshness, fruit and finesse in a glass. You will want more than a toast. A champagne to be enjoyed all night long.
---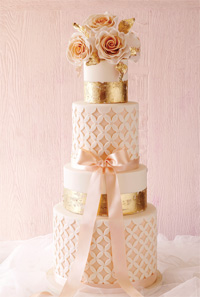 A fall feast
Q. We're looking at cakes for our autumn wedding, and we'd like something seasonal and stunning – but we're struggling to come up with a brief beyond this. What would be your suggestion for a modern autumn wedding both in terms of décor and flavour?
A. Domino Purchas says: For an autumnal wedding there are many flavours you could choose from, but the ones I always recommend for this time of year are spicy carrot cake with a cream cheese frosting, tangy ginger cake with a lemon butter cream and a rich dark chocolate cake with ganache and salted caramel filling.

For design ideas and colours – warm autumnal colours are always eye-catching for fall with splashes of gold for sparkle. Shades to consider would be creams, burnt orange, browns, golds and coppers. Fir cones and falling leaves with acorns scattered will give a glorious country feel.
---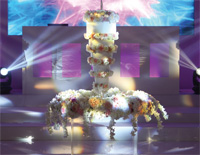 Have your cake and eat it
Q. As we're making a considerable investment in our cake, we want something altogether more spectacular than your average cake cutting ceremony. Are there any other ways we can draw attention to the cake, and encourage guests to participate in the event?
A. Pardeep Gill and Renu Kaur Gill says: We often get requests from clients looking for something more spectacular than the average cake cutting ceremony.

Have you considered having your cake lowered from the ceiling? At one wedding, guests were asked to take their seats and, to their surprise, the concealed suspended wedding cake was slowly lowered and revealed from way above among the glittering chandeliers.

Indeed, suspended cakes are a growing trend – you could even choose an 'upside down' creation – guests will gather to speculate about the logistics of cutting in to it – don't spoil the surprise by telling them that there's a concealed hidden plate, which allows you to cut into it without courting disaster.

You could also time some other element of your entertainment to coincide with your cutting ceremony. Recently a bride asked her guests to join her and her groom outside in the gardens, where the cake had been set up. Everyone was asked to join in the countdown and, as they sliced into the cake, the sky lit up with a magnificent fireworks display.
---
All abroad!
Q. We're planning to hire a Routemaster to transport guests between the ceremony and reception but we want the journey to be an event in itself. How would you suggest we entertain guests while on board and are there any no-nos – for example, are we allowed to serve drinks on board?
A. Aaron Gilpin says: When your guests take their seats, we want to keep the spirits high and celebrations on-going. Look for a bus equipped with a good sound system, so that the entertainment can continue once your guests are aboard. That way, you can play a playlist of your favourite music or even take control of the microphone and provide your own entertainment – perhaps a running commentary on the landmarks you pass for out-of-town guests?

Drinks can be served on the journey; but for safety reasons, your transport provider will almost certainly ask that they're served in plastic glasses, as no glass will be permitted on the bus – except for champagne, Prosecco or similar bottles.

If your bus offers its own conductor to look after your party, clip your tickets and make sure that all your guests are enjoying themselves. You could even provide personalised tickets, decorated to suit the theme of your wedding.

In terms of "no no's" – we just ask that you put safety first, which means that you remain seated and enjoy the journey.
---
Contact our experts...

Aaron Gilpin
Photographer

Anna Grente
Wine specialist

Domino Purchas
Cake designer

Filipe Borne
Venue manager, The River Rooms

Pardeep Gill and Renu Kaur Gill
Cake designers
---