Ask the experts
Here is a selection of Q&As from Your London Wedding magazine. If you would like your question answered by our experts, please email it to editor@yourlondon.wedding.
To view more Q&A's on a different topic, please select one from the list below.
Hot topic: City slickers
Our experts solve your wedding woes
---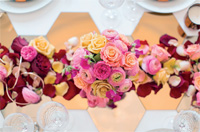 Say it with flowers
Q. recently learned that flowers all have a meaning and Victorians used to send messages to loved ones with a posy. I'd love my bouquet to mirror this tradition. Which blooms would you suggest?
A. Liz Inigo Jones says: What a lovely idea. For many brides, the symbolism of the blooms they carry is just as important as aesthetics and seasonality. Read on for five floral delights that will marry all three. Calla lily: The Calla lily symbolises beauty and magnificence – traits that any bride is sure to embody on her wedding day. White Calla lilies specifically are associated with innocence and purity, which makes them a great option for more traditional weddings.

Hydrangea: Not only does the hydrangea look beautiful as part of a summer bouquet or tablecentre but it also happens to represent sincere and heartfelt emotions, as well as a gratitude and appreciation for being understood. The dual meanings are simply perfect for weddings; what could be better in a marriage than sincerely loving and understanding one another?

Peony: Peonies have been extremely popular choices for early summer weddings for many years and, to look at them, it's very easy to see why. Pink peonies are beautiful, fluffy flowers with a gorgeous shape and texture and they photograph like a dream. Not only this, but in the context of a wedding, peonies symbolise a long and happy marriage, filled with good fortune, health and wealth. These little beauties are only available for a short time in late spring and early summer, so if you have your heart set on them, make sure they're in season for your big day.

Stock: Stock is an aesthetically wonderful and supremely fragrant choice. It can look absolutely stunning in singular bunches on tables, and the great news is that it's also fantastic luck. Stock represents long-lasting beauty and happiness. It symbolises the bonds of affection – what more could you want on your wedding day? Rose: I'm pretty sure that a rose by any other name would smell as sweet, look as flawless and have the same ideal symbolism for weddings. While there are many different meanings to be inferred from different coloured roses, the overall meaning of this beautiful bloom is, simply, love. And, as the man said, love is all we need.
---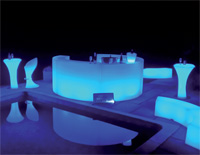 Light of my life
Q. We're planning an al fresco do but we don't want to stray down the country twee route. We have a marquee but I'd like to kit out the lawn and entrance with props worthy of the contemporary city location. What would you suggest to make our garden do pop?
A. John Boyle says: One way to transform your evening event into an ultra-modern lounge atmosphere is by using LED lighting and furniture. LED offers a contemporary, subtle yet effective look bound to impress your guests. The list of options are endless and range from covering trees in colour changing fairylights to stylish LED furniture and even artificial flame torches. LED lighting is very versatile, many of the products being waterproof and controlled with a remote.
---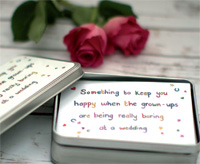 Toy story
Q. I'm the last of my friends to tie the knot and all my mates have kids. I don't want to exclude them, but equally it would be nice to keep them busy so my wedding doesn't start to resemble a crèche. What are your suggestions for child-friendly activities that would work at the table?
A. Sarah Watts says: Your concerns about the issues surrounding children at weddings are completely understandable. I took my trio to a wedding as toddlers. I had prepared them each a bag (a very 'quiet' freezer bag) and popped in some hula hoops, raisins, nuts etc. and they all sat in the registry office sucking on the hula hoops and thinking it was such a treat.

Having children at a wedding can make for a truly perfect day – the photo opportunities alone make it worth having them around. Conversely, sugar-filled youngsters screaming around the place can make everyone feel uptight. So, firstly, having some form of outdoor space for them to safely run around to work off some energy is a must. Perhaps a quiet word to the parents to let them know the space is there as a hint might be useful. By the time the wedding breakfast commences, they should hopefully be a little more ready for sedate activities.

There are numerous sites that offer free printable word searches, puzzles and colouring-in activities. You can simply roll some up with a little pack of pencils and finish off with a bow. Having had three babies in a year, I've spent the past 14 years designing products to keep children happy when they need to stay still. It can be a hard task, but with a little imagination and time, anything can work, because, let's face it, if you give a five year- old an empty brown paper bag, some pencils and a few pointers on what they could do with their 'gift', they'll keep quiet.
---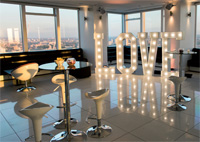 London calling
Q. My hubby-to-be and I have chosen to tie the knot in London as it's where we live and work. As we're both from different countries, we'd prefer to use the city as inspiration for our theme, rather than attempt a clumsy merger of our two cultures and risk offending both sides, but we don't want the theme to be too much of a cockney-cliché. How can we create a London-vibe without making our day into another tourist attraction?
A. Dominique Douglas says: London is such an amazing city to choose for your wedding as there are so many varied venues from city-chic restaurants to roof-top gardens, elegant royal palaces or high-end hotels. To create a cool London vibe without it being too touristy, here are few ideas that you may wish to consider:
Choose a venue with a view. No décor required if you can just look out the window and see the fabulous London skyline
Name your tables after landmarks in London where you shared a special memory, such as your first date, where you first fell in love, where he proposed and so on
Ask a graphic designer to convert the tube map into your tableplan
Transport your guests in a vintage red London bus between your ceremony and reception
Use London landmarks as the backdrop for your formal photos. It doesn't cost a lot to obtain a licence to have your photos in a Royal Park. Not only will you be surrounded by stunning trees, but above the trees you'll have some of London's most iconic structures, such as the London Eye, Big Ben, The Houses of Parliament and many, many more
Hire a London black cab as your photo booth Remember, you don't need to serve fish and chips and sing Knees Up Mother Brown to have a London wedding.
---
Loudspeaker
Q. The majority of our guests are travelling far and wide to attend our London wedding, and won't be familiar with British wedding convention. Short of printing out an instruction manual, we're at a loss – how can we be great hosts and enjoy our big day?
A. John Boyle says: A professional wedding toastmaster will help the day run smoothly as she/he will organise, co-ordinate and advise the guests of the running order, allowing the bride and groom to mix with their guests and enjoy their special day. Through the day, the toastmaster will become known to guests as the go-to guy or girl for information and advice, relieving the pressure on the bride and groom.
---
Contact our experts...

Dominique Douglas
Venue styling and wedding planning

John Boyle
Toastmaster

Liz Inigo Jones
Florist

Sarah Watts
Children's accessories designer
---