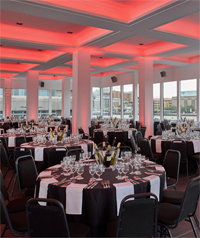 The wow factor
Q. We got engaged at Christmas so we're starting our wedding planning journey this year. What questions should we be asking on our venue tours?
A. Filipe Borne says: First of all, congratulations! Your wedding day is one of the most important days of your life, so finding a space that leaves a lasting impression is key.

There are so many questions you can ask, so before you head out on your tour ask yourself what do you want? Is natural flow from arrival at the venue to the main room without disruptions important? Do you want to have plenty of entertainment to wow your guests? Do you want mindblowing catering and perfect photo opportunities?

Once you've established what you want your day to look like, you can then find out more details – for example, if entertainment is the priority, you'll need to know whether a venue has space for a dancefloor or a performance. What entertainment is permitted and what's not? Are there noise restrictions in place?

Most importantly, you want to know that you can trust your venue and that they'll create your wedding vision, which is why a good events manager welcomes every question and are on hand, every step of the way.